Nikki was born on August 23, 1991. I purchased her from Sugarbush Kennels, owned by Lorna Luce. I bought Nikki because I liked her sire Ch. Briarbrook's Center Ring. I saw some of the offspring of Beau and fell in love. I was VERY lucky to have found Lorna; she has helped me with so many aspects of the breed. She has been there to support, counsel and sometimes just listen to me. Beau, Nikki's sire, died before she was conceived. Nikki's dam Ch. Sugarbush's Lit Bit of Class was artificially inseminated. The moment Nikki got off the airplane, she won my heart. Nikki kissed my sister, Lynn, all the way home from the airport. She was sooooo cute! Nikki has a way to win everyone's heart, from her wiggles to her picking up her toys and saying, "aren't I cute". Nikki is the foundation of Western Hills Aussies. Every puppy she produces, she stamps with her "wanting to please you" temperament. Four out of her five puppies are out in the show ring doing well. They are Western Hills Dream Catcher II, CD, NA, OAJ, RS-O, OAC, GS-N, NGC, JS-N, NJC, HIC, CGC (Jessie) , A-Ch/Gr. Ch Western Hills Marshall Dillon, HIC, Major pointed AKC (Dillon), Western Hills in Motion NA, NAJ, RS-N, NAC, GS-N, NGC (Fly), and ASCA Ch. Western Hills Ruckus Rodeo, DNA-VP, pointed AKC (Ruckus). Nikki has one other special puppy named Calico that is owned by the Jones' family in Dallas. Her registered name is Western Hills Miss Kitty.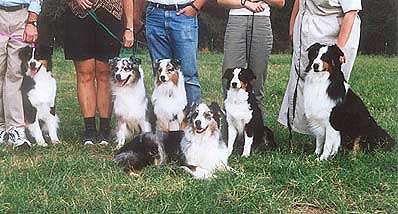 Nikki and all her kids Oct 2000. From left to right,
Fly, Dillon, Calico, Jessie and Ruckus.

Nikki finished easily in ASCA with multiple BOS and BOBs. She loves to show off her stuff, which is what got her a Best in Show at a UKC show. Nikki has worked sheep and loves it; she got her front tooth knocked out by herding the neighbor's cows. Nikki is now spayed, but she is still my protector. She is living a great life of retirement. Thank you Nikki for giving me such wonderful kids! I feel very lucky to be able to own Nikki, or should I say I feel very lucky for Nikki to own me!
We lost Nikki May 9th, 2003. She was a very special girl to us and will be missed by us more then weI can ever express. A friend made a tribute page for her. Please visit it, it talks a little more about her and why she was one of the special ones......